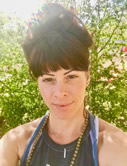 Christena dedicates her personal & professional life to the teachings & practice of Yoga. Before Yoga, her educational journey was that of Transcendental & Humanistic Psychology; she graduates with her degree in Behavioral Health Science in 2021. She holds a 500HR RYT, Yin & Restorative Yoga 100HR & Reiki Master Certification all from Yandara Yoga Institute. She has worked with a wide variety of students, ages, special needs, injuries & limitations; giving her the experience to tailor all Yogic Practices to suit students' needs & goals. Physical, mental, emotional & spiritual health are all obtainable through Yoga Practice.
Yoga is her passion & purpose in life.
1 hour • $55
A Hands-On Yoga Technique Derived From Kriya Yoga ("Yoga Of Action") Where A Physical Area Of Pain Or Dis-Ease In The Body Is Attended To Through Energetic Concentration & Movement Of Energies. Optimal Results Yielded With Progressive Sessions.
1 hour • $65
Chakra Cleansing Stimulates & Balances The Primary Energy Centers Of The Body; Restoring Emotional & Energetic Flow Through Reiki Infused Yoga Techniques Designed To Restore Balance In These Vital Energy Centers.
Solfeggio Hz Healing Frequencies, Crystals & Other Sound Healing Applied.
90 minutes • $110
120 minutes • $145
A unique practice where the student is relaxed entire session: medical massage, Thai massage, deep tissue massage, myofascial release, Reiki & specialized yoga stretching techniques are used to loosen tight muscles, detoxify internal tissues & release physical & emotional tension built-up in the body.
Health Benefits:
~ Loosen bound-up muscle tissues AKA "knots"
~ Expansion of muscle fibers improves circulation
~ Lengthen muscle fibers to remove toxins
~ Extra Oxygen delivered throughout the body
~ Supports health & longevity of ligaments & tendons
~ Reduce physical stress in the body
1 hour • $55
Private Yoga Lessons Are Individually Tailored To Meet Students Needs & Goals. Learn To Begin, Modify Or Advance Your Practice In A Private Setting & Undemanding Pace. Yoga Is Very Effective At Pain-Management, Reducing Stress & Delivering An Over-All Sense Of Well-Being. Deep Stretching Gently Brings Muscles & Bones Back Into Their Optimal Alignment, While Lubricating The Joints. Asana Practice Aids In The Transfer Of Nutrients In The Body, Reduces Inflammation & Helps Prevent Premature Aging.
3/PL = $65/EA
5/PL = $55/EA
60 minutes • $12
Small Group At The Yoga Room Every TUES 9A & THURS. Asana Practice Includes Beginning & Ending Dharma/Meditation, Vinyasa, Balancing Asanas, Warriors, Traditional Yoga Poses & Creativity Within Poses. All Levels Welcome. Please Bring Two Blocks & A Strap.
5 1/2 FT Mat-Distance From Each Student
1 hour • $75
Pocket/Travel Yoga Is Voice-Recorded & Accessible Through Your Smart Phone &/Or Electronic Device. A Convenient Yoga Practice You Can Take Anywhere. I Customize The Practice Specific To Your Yoga Needs & Goals. Mini Beginning & Ending Dharma Included.
Full-Length HR Practice Or Two 30MIN Mini-Yoga's.
75 minutes • Contact Christena For Price
Practice Is Customized According To Your Individual/Your Groups Yoga Needs & Goals. Music, Essential Oils, Sage, Beginning & Ending Dharma/Meditation All Included.
1 hour • Starting At $80
Group/Special Event Yoga Can Be Once Or Ongoing. Adding Yoga Practice To Your Special Event Brings So Many Benefits To You & The Group. Set The Pace Of Peace, Relaxation, Inner-Strength, Body Conditioning, Mental Clarity & Emotional Well-Being. All Group Classes Are Custom Tailored To Your Requests, Needs & Goals: Pranayama, Sound Healing W/18th Century Tibetan Singing Bowl, Vinyasa, Slow Flow, Power/Motivational Yoga, Meditation, Essential Oil Treatments, Sage-ing, Sound Therapy &/Or A Combination Of These Healing & Therapeutic Practices To Enhance Your Special Event.
1 hour consult • $45
Healthy Gene Expression Is The Key To Anti-Aging, Pain-Management, Dis-Ease Prevention/Management & Good Health. Learn How To Obtain Healthy Gene Expression For Healthy Aging, Longevity & A Good Quality Of Life. I Share The Practices I have Used For The Past 12YRS In Maintaining My Health & Youthful Attributes. Nutrition Plans Are Also Discussed.
1 hour • Starting At $65
Reiki Is Unconditional Love & Wisdom, A Hands-On Healing Technique That Promotes Stress-Reduction, Health & Healing On All Levels. Reiki Assists The Body's Natural Ability To Balance & Restore Itself At The Physical, Emotional, Mental & Spiritual Level. Reiki Brings Peace To The Mind & Enhances The Health In Both The Client & Practitioner's Lives. Light Reflexology Applied To Hands & Feet Help Break-Up Lactic Acid Crystals So Energy & Circulation Flow More Freely In The Body. Sound Therapy Used To Relax & Reduce Stress. Reiki Compliments Other Healing Practices Such As Yoga & Meditation.
45 minutes • $45
Meditation Has Many Benefits: Increased Self-Awareness & Patience, Fresh Imagination & Creativity, Reduced Stress Response, A Deeper Understanding Of Life & Life's Purpose. Meditation Nurtures The Connection To The World Around You & Is An Exceptional Way To Enhance Mindful-Thinking, Healthy Decision-Making & Teaches You How To Attract What You Want In Life.
75 minutes • Contact Christena For Price
A Combination Of Yoga Poses, Goal-Oriented Meditations, Pranayama & Relaxation Techniques To Support Recovery From Addiction(s). Open The Body To Release Physical & Emotional Toxins, Retrain The Mind To Be At Peace. Yoga Excels Us Towards Positive Growth & Acceptance While Nurturing Spirituality. Learn & Apply Lifelong Tools To Prevent Relapse, Stay On The Path To Good Health & Recovery To Lead A Happy & Fruitful Life.
Every Practice Specially Designed Based On Student's/Groups Experience With Addiction, Trauma, Personal Needs/Goals.