Contact us for more information about our Co-Op Studio and upcoming classes and workshops that we will be offering:
We are a Co-Op studio and all of our teachers 

design

 and 

build

 their classes personally. We all share the studio together for the 

benefit

 of all.
Please leave your name below if you are either interested in certain classes that you would like the Yoga Room Prescott to offer .
Also, if  you are a certified instructor and would like to add to our quickly growing group for the "Yoga Room Prescott" community of health, body, and mind professionals. We are a group that are interested in a cooperative teaching experience to offer the most wonderful workshops  and classes from our hearts that will benefit to our lovely Prescott Community.
We are located at 119 Grove avenue and have recently moved to the back studio.
There is ample parking on the side or in front of the studio on Grove Avenue.
We prefer that you call in advance to reserve your mat directly with whatever class or teacher that meets your specific needs. We want to know what you are looking for in a gentle yoga or pilates class.
We all have areas that can be a challenge for us, especially with movement, or lack of. We are here to help with that, and this is what makes The Yoga Room in Prescott different!
We can cater to your individual needs and all of our teachers in our Co-Op have a personal interest in YOU so they are happy to do so!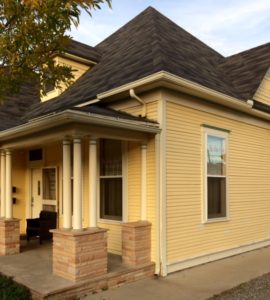 Parking on Grove Avenue and also on the side of the buildings, turn into Western and into the alley. Turn right into the parking at The Grove. Our studio is the first building as you come into the one way parking places.
All workshops are held at:
The Yoga Room at the Grove
119 Grove Avenue
Prescott, AZ