Donna Manning
M.S.,C-IAYT, E-RYT500
As a yoga therapist and functional aging specialist, Donna teaches a gentle, alignment  based yoga class, suitable for all levels, with a dose of laughter mixed in. Her slow, mindful  movement creates balance, grounding, and calm in body, mind and spirit. She has an  extensive education and multiple certifications in exercise physiology, pilates, yoga, yoga  therapy and meditation. With these many tools in her toolbox, Donna is skilled at adapting  the class to each individual to gain strength, flexibility and balance. Donna has been  teaching both private and group instruction for over 35 years, and there is nothing else  she would rather do!
Donna also offers private instruction in an individual's home, or at The Yoga Room.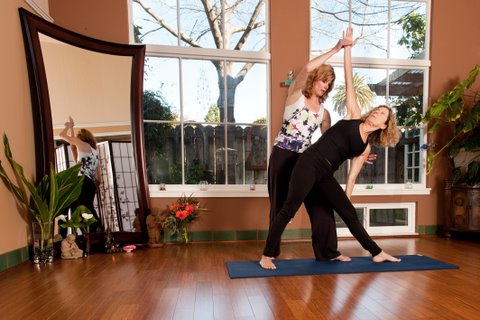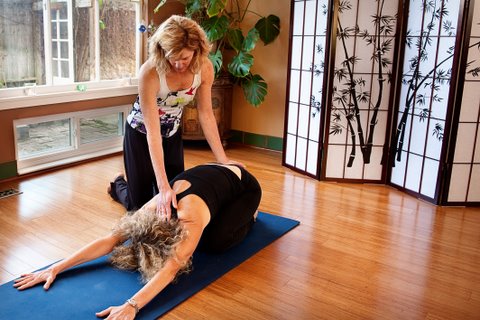 Current class schedule open to the public
Gentle Yoga:
Wednesday – 8:30am-9:30am & 10:00am-11:00am
Friday – 10:00am-11:00am
Please contact Donna for availability of a spot in class.
Phone: (925)321-4898
Email: donnamanningyoga@gmail.com

Classes are currently limited to six participants, and everyone wears a mask.
"Donna is the best yoga instructor I have experienced in my career as a medical professional. She is extremely knowledgeable and gives excellent verbal cues!" Judy
"Having had many yoga classes, Donna is the very best teacher I have ever had. Her technique is perfect. She is so attentive to every move and posture. (Let's all say a huge thank you to Touchmark and to Donna-)" Susan Stovall, Grateful student
"Donna is the absolute best yoga teacher. I've taken classes from many instructors and never have I felt more safe, comfortable and relaxed in a yoga class. She has many converts and believers! Love that." Connie Martin
"I especially love yoga with Donna – she is the best I have ever had. My balance and overall health is much better now." Marlene
"Donna Manning is an incredible yoga instructor. She explains the movements and their benefits so well. Her restorative sessions are the BEST! Thank you Donna for being here at TouchMark and in my fitness life!" Geralyn
"My private sessions with Donna have been nothing short of life changing…Her sessions are  very healing and I always leave feeling much better and armed with simple techniques I can  use at home. I would recommend Donna's practice to anyone, of any age or ability level,  who is interested in improving their overall quality of life." MA