ELENA YAN
500HR RYT Certified Yoga Teacher
Hatha, Vinyasa, Universal Yoga
Nutrition & Lifestyle advisor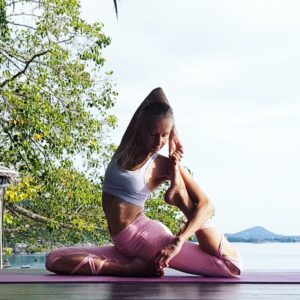 Elena have been studying traditional forms of posture, movement, breathing and energy work since early age. Her Yoga journey began in 1996 from learning and practicing basics of Taoist Yoga, Tai Chi, Qigong, Bagua Zhang and Meditation. Later Elena joined Hatha and Vinyasa Yoga classes, attended retreats and workshops in Australia and Thailand and was graduated from 200HR Yoga Teacher Training in Vikasa Yoga Retreat (Koh Samui, Thailand). In 2018 Elena attended her second Yoga Techer Training (300HR) of Universal Yoga. ​Elena was also a student of Simon Borg Oliver (Australia) – a research scientist, physiotherapist and a Yoga teacher.
​Elena's teaching experience began in 2001 as a dance teacher, she conducted group and private classes, as well as workshops. She began teaching yoga in 2016 in Sydney, Australia and gained a broad experience in teaching group and private classes, workshops, retreats, as well as private classes online for students of any levels and ages.
​Apart of Yoga Elena has been passionate about Medical Science, Health and Nutrition. She studied Bachelors in Medical Science and Nutrition as well as Bachelors in Complementary Medicine, currently she is working in a Hospital facilitating recreational therapy groups, including yoga classes.
ELENA'S TEACHING STYLE:
​​Based on multiple yogic disciplines and incorporates traditional aspects of yoga, health science and human physiology. Her classes focus on physical alignment and internal aspects (mind, energy, breath), allowing students to practice safely and effectively. ​Elena works with students of all levels and ages.
ELENA'S HOBBIES INCLUDE:
hiking, traveling, health science and Plant Based kitchen, especially Raw Vegan Deserts.
PRIVATE CLASSES AVAILABLE BY APPOINTMENT: 
For more information about Elena and her services, visit her website: www.WholisticYoga.com
Kathy's classes have a soft, healing energy, using soothing postures for low back, neck, and shoulders. She finds it most rewarding that in her classes, her students love to relax, close their eyes and go within their own bodies while following their breath.  This enables them to release tension in these areas by increasing oxygen flow with internal focus. Kathy believes that moving into the parasympathetic nervous system is the beginning for true healing on so many levels.
WHAT TO BRING: 
Yoga Mat
1-2 Yoga Blocks
Blanket (when cold) – optional
Strap – optional
Yoga mat and blocks are also available for rent – $2 (for 1 mat + 2 blocks) for one class.
COST:
$15 (75-90 min class); $12 (60 min class)
10 classes package: $120 and $100 accordingly
Cash, Card, PayPal, Zelle