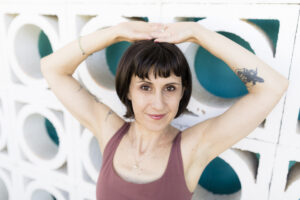 Stephanie Sandleben is a movement educator, yoga teacher, and a trained postpartum doula with over 20 years of experience. She offers 1:1 personalized pelvic floor care along with teaching yoga classes and workshops for pelvic floor health. Stephanie is currently on the teaching staff for the LILA (Lessening Incontinence through Low Impact Activity) study conducted by University of California San Francisco.
Stephanie's love for yoga began as a teenager growing up in Prescott, Arizona.  Nurtured by hippie parents—a Kripalu-inspired Yogini and Sufi Sheikh—it grew into a lifelong passion that took root in New York City, flourished in the Bay Area and now, life has come full circle, back to Prescott.
She received her first 200-hour yoga teaching certificate in 2004 with Alison West, a Manhattan yoga pioneer and innovator, and spent more than ten years teaching alignment-based vinyasa at prominent yoga studios in Manhattan and Brooklyn, along with corporate clients like Google, Eileen Fisher, and Credit Suisse.
The birth of her children rearranged Stephanie from the inside out and catapulted her family across the country to the Bay Area where she started the next chapter of her life and career. Motherhood ignited a deep desire to help women during the early postpartum period and beyond.
Her own experiences with birth injury and trauma inspired Stephanie to train as a Postpartum Doula through San Francisco's Natural Resources and become certified in Pelvic Floor Yoga ™ Therapy with Leslie Howard in 2014.
Stephanie is committed to empowering people in all stages of life to restore their bodily and emotional confidence and help them reconnect to their own innate wisdom.

Through teaching and learning, being in dialogue with each other and creating a safe space where all bodies feel welcome, Stephanie hopes to facilitate a deep collective renewal.
PELVIC FLOOR + CORE CARE SERIES
Pelvic Floor + Core Care for Mamas
6-week Yoga Series
Thursdays 5:30-7pm
January 26, February 2, 9, 16, 23 and March 2
This series is open to all-levels of yoga practitioners.
Pre-registration required/No drop-ins
10 people maximum
To register: contact hello@thesamamama
For the series $150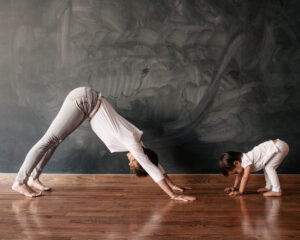 You've given birth. Your life has changed in so many miraculous and unanticipated ways and so has your body. After pouring so much love and attention to your little one (or ones!) you're ready to focus on yourself again. However, stepping into a movement and exercise practice is not always an easy task. Your body may feel sore in new places, stretched out, or even tight in unexpected areas. And you may feel unsupported due to abdominal separation (diastasis recti) or having difficulty connecting with your pelvic space.    

Culturally, you've been bombarded with the notion of "getting your body back" and something doesn't resonate with that messaging. However, you would like to feel strong and supple to be able to juggle motherhood, work…well, life in general.
Join pelvic floor yoga specialist Stephanie Sandleben for a body positive six-week yoga series that will focus on pelvic floor and core health for women ranging from the 6-week mark to 5 years. This series is an in-depth and comprehensive way to approach the needs of your postpartum body—and includes breath awareness, therapeutic yoga postures, functional movement and guided compassion meditations.
Each class will include a brief anatomy discussion along with movement dedicated to exploring and stabilizing your center.
The class size is limited to 10 students–allowing for extensive personal attention so that each participant can cultivate tools for self-assessment and awareness.

1:1 Pelvic Floor Care
 A personalized 6-8 week therapeutic yoga and functional movement program for pelvic floor health.
 This program is suitable for people who are dealing with incontinence, pelvic floor and lower back pain, or pelvic organ prolapse, diastasis recti and postpartum conditions.
Tool-kit for our sessions together:
Pelvic Floor Yoga™ is effective, non-invasive, and has many corollary benefits.
Pelvic Floor Fascia Trainer in The Franklin Method ®— a dynamic approach to movement that places the body and its function at center stage. Utilizing Dynamic Neuro-Cognitive Imagery (DNI™ ) with targeted exercises to maintain and improve the health and wellbeing of the body and mind.
After the initial intake session, Stephanie works in a series of 6 – 8 sessions to ensure that you receive the results you're looking for—relief from incontinence, pelvic & lower back pain, prolapse, postpartum — confidence, and a renewed sense of embodiment.
Healing requires consistency and a commitment to regular practice, similar to physical therapy. It takes time for symptoms to arise— therefore, time is needed to reverse and make lasting changes in the body.
For more info check-out: 1:1 Pelvic Floor Care
To book a complimentary 20-minute call