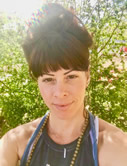 600HR RYT, Yoga Bodywork Practitioner, Reiki Master & Certified Transformational & Developmental Life Coach
Christena dedicates her personal & professional life to the teachings & practice of Yoga & Life Coaching. She holds a 500HR RYT Certification, 100HR Yin & Restorative Yoga, Reiki Master & Life Coach Certification all from Yandara Yoga Institute (prior to this, her educational journey was that of Psychology & Humanities). She is also a 4X Graduate of Landmark Education Personal & Professional Self-Development Courses.
Christena works with a wide variety of students from all walks of life, ages, special needs, injuries & limitations, giving her the experience to customize all therapies & sessions to suit her clients & students individual needs & goals. Physical, mental, emotional, spiritual health & balance are all obtainable with the willingness to change & the drive to succeed using the tools of Yoga & Life Coaching as stepping stones towards positive growth & transformation.

HANUMANASANA (MONKEY POSE)

Certified Transformational & Developmental Life Coach
Conscious Coaching Is Designed To Help You Identify & Overcome Obstacles Through Sustainable Systems & Result-Driven Sessions
My dedication & commitment to you:  
100% unconditional understanding & non-judgment
100% support & belief in you as a person
100% recognition of your human & spirit nature
100% commitment in supporting you reaching goals & creating systems to maintain sustainable results
Tools to help you understand yourself more clearly
Tools to support developing the person you want to become
Lifework (effort you put into your growth & development) that is aligned with what you want to accomplish
Email &/or phone access to me throughout our journey together
Contact Christena For Packages, Prices & To Schedule A Complimentary 30MIN Zoom, In-Person Or Phone Consultation: conscious.coaching@outlook.com
Private Yoga Instruction
Private Yoga Lessons Are Individually Tailored To Meet Students Needs & Goals. Learn To Begin, Modify Or Advance Your Practice In A Private Setting & Undemanding Pace. Yoga Is Very Effective At Pain-Management, Reducing Stress & Delivering An Over-All Sense Of Well-Being. Deep Stretching Gently Brings Muscles & Bones Back Into Their Optimal Alignment, While Lubricating The Joints. Asana Practice Aids In The Transfer Of Nutrients In The Body, Reduces Inflammation & Helps Prevent Premature Aging.
3/PL = $75/EA
5/PL = $65/EA
Yoga Bodywork (YBW)
90 minutes • $150
120 minutes • $200
An Enhanced Massage Experience & Unique Practice Combining Specialized Yoga Stretches, Thai Massage, Deep Tissue Manipulation, Myofascial Release & Master Reiki Techniques.
YBW Improves Circulation, Reduces Inflammation, Lengthens & Loosens The Fascia, Muscles & Joints To Support Proper Skeletal & Muscular Alignment. Beneficial At Managing & Reducing Pain, Improving Mobility & Enhancing Athletic Performance.
YBW Enhances Over-All Health & Well-Being, Delivers Feelings Of Peace & Tranquility.
Sound Therapy To Conclude.
Health Benefits:
Loosen Bound-Up Muscle Tissues AKA "Knots"
Increase Joint Mobility, Flexibility & Range Of Motion
Lengthen Muscle Fibers To Remove Toxins & Improve Circulation
Extra Oxygen Delivered Throughout The Body
Supports Health & Longevity Of Ligaments, Tendons & Joints
Reduce Physical Stress & Emotional Tension In The Body
Enhances Athletic Performance
Chakra Balancing & Integration
Learn More About The Primary Energy Centers Located Up & Down The Spine. Discovery Is The Key To Connecting, Integrating & Opening Your Chakra Centers To Remove Blocks, Clear Unwanted Energy, Increase Vitality & Harness The Power That Resides In Each Chakra. Dive Deeply Into Your Self & Discover More About Who You Are & Who You Want To Be.
Imagine Freedom: What Would You Accomplish Without Fear
7 Chakra Balancing Guided Meditations:
* Gain A Clearer & Deeper Understanding Of One Or More Chakra Centers & The Role They Play In Your Life
* Identify Potential Blocks Or Over-Expression To Balance, Integrate & Better Manage & Direct Your Energy System To Enhance Your Over-All Health & Well-Being
* Vibrational Sound Healing Unique To Each Chakra
* Sage Cleansing
* Mudras, Bandhas & Asanas
* Chakra Book Included Upon Completion Of Entire 7 Series
Sessions Can Be Purchased Individually Or The Entire 7 Series For A Discount
$575 Series ($80/Session)
$95 Individual Sessions
Special Event Yoga
75 Min • Contact Christena For Price
Special Event Yoga Can Be Once Or Ongoing. Adding Yoga Practice To Your Special Event Brings So Many Benefits To You & Everyone Involved. Set The Pace Of Inner-Peace, Relaxation, Strength, Body Conditioning, Mental Clarity & Emotional Well-Being.
All Group & Special Event Yoga Are Custom Tailored To Your Requests, Special Needs & Goals: Pranayama, Sound Healing W/18th Century Tibetan Singing Bowl, Vinyasa, Slow Flow, Power/Motivational Yoga, Meditation, Essential Oil Treatments, Sage-ing, Sound Therapy &/Or A Combination Of These Healing & Therapeutic Practices To Enhance Your Yoga Experience.
Group Practice @ The Yoga Room
60 minutes • $15
Group Practice At The Yoga Room Every TUES 9A. Asana Practice Includes Beginning & Ending Dharma/Meditation, Balancing Asanas, Warriors, Traditional Yoga Poses & Creativity Within Vinyasa. All Levels Welcome. Please Bring Two Blocks & A Strap.
Recovery Addiction Yoga
75 minutes 
Recovery Addiction Yoga Is Designed To Support You, The Student, Through The Recovery & Discovery Process Of Life.
Yoga Practice Is An Excellent Tool & Support Mechanism That Acts As A Foundation To Support A Clearer Sense Of Who You Are, Where You Want To Go In Life, How To Better Connect With Yourself & Others. A Combination Of Yoga Poses (Asana Practice), Guided Meditations, Pranayama (Yogic Breathing Techniques), Relaxation & Mindful Techniques To Support Recovery From Addiction(s) & An Overall Sense Of Empowerment & Well-Being. Open The Body To Release Physical & Emotional Tension & Toxins, Retrain The Mind To Be At Peace & Learn How To Cope With & Retrain Unwanted Physical & Emotional Feelings. Yoga Excels Us Towards Positive Growth & Acceptance While Nurturing Spirituality. Learn & Apply Lifelong Tools To Take Control Of Your Life & Decision-Making Processes. Stay On The Path To Good Health & Recovery To Lead A Happy & Fruitful Life.
Every Practice Specially Designed Based On Student or Groups Personal Needs & Goals.
Groups Of 1-5
1 SESSION: $80
3 SESSIONS: $225 ($15 SAVINGS)
5 SESSIONS: $325 ($75 SAVINGS)
ONGOING: $50/SESSION (REQUIRES 6 SESSIONS PIA)
6 Or More Add $10/Per Student Per Session
Home Yoga (Individual or Group)
75 minutes
Practice In The Comfort Of Your Own Home. Home Yoga Practice Is Customized According To Your Individual Needs & Goals. Music, Essential Oils, Sage, Beginning & Ending Dharma/Meditation All Included/Optional.
Single Practice = $55
Monthly Practice 1X Per Week = $45/session
Monthly Practice 2X Per Week = $40/session
Monthly Practice 3X Per Week = $35/session
Anti-Aging Health & Nutrition Consult
1HR consult • $50
Healthy Gene Expression Is The Key To Anti-Aging, Pain-Management, Disease Prevention/Management, Quality Of Life & Good Health. I Have Been Studying Epigenetics For 12 Years & Inform You On How To Improve Your Health At The Epigenetic Level, Sustainable & Effective Health Results.
Learn How To Harness Healthy Gene Expression To Decelerate The Aging Process, Enhance Longevity & Enjoy Quality Of Life. I Educate You On The Epigenetic Nutrition I Have Used For The Past 13YRS In Maintaining My Health & Youthful Attributes.
Guided Meditation
45 minutes • $50
Meditation Has Many Benefits That Are Compounding Over Time: Increased Self-Awareness, Mindfulness & Patience, More Clear Imagination & Creativity, Fresh Perspective, Reduced Stress Response, A Deeper Understanding Of Life & Your Life's Purpose. Meditation Nurtures The Connection To Your Higher Self & The World Around You. It Is An Exceptional Way To Enhance Mindful-Thinking, Healthy Decision-Making & Teaches You How To Attract What You Want In Life.
3/Sessions: $135 ($15 Savings)